WINTER SEASON '22
[su_divider top="no" divider_color="#ffffff" size="2″ margin="30″]
2022 Winter Season is finally here and with it our offers and snow services
In the last few years we've created, expanded and developed a unique andone-of-a-kind space for Snow and Winter sports. It was also made possibile thanks to the help of the many brands we've been cooperating with for years.
Our mission is to try and satisfy our customers' needs and expectations, so we are always trying to keep up with them, their ideas and their ever-changing needs. In these last few years skiers have become more than "just people who skis in the weekends", they are rather true 360° "outdoorers", who feel and experience snow and winter sports in a new, different way.
With our expert, we've selected a wide choice of products that allow these people to have fun and to test their limits on the tracks. Ski and ski boots are even more "futuristic" now, equipment is safer and better, to allow "snow-lovers" to truly enjoy their days up in the mountains.
Inside our shop, there's a space we called "SNOWLAB", a lab where our customers can have their ski boots and ski equipment customized, to fit their needs and their style perfectly.
DISCOVER OUR STRONG POINTS
BOOTFITTING
Our experienced team can customize ski boots, modifying the shell and the insoles; moreover, if need be, we can also create a specific insole, depending on our customers' feet. These optionals are really important to improve confort and fit, as well as performance and precision. Know-how and experience are what makes Gialdini experts stand out from the rest; Marco DeLorenzi has been able to satisfy many customers with specific needs and requests over the years.
What can be requested in our snow lab:
• Footbed and internal wedge leveling
• Customized injected insoles
• Instep and insole adjustments
• Foot pocket thermoforming
• Wedges removal and replacement
• Bindings adjustments according to DIN regulation
• Sidas insole customization
Ski boots are a difficult product to choose, thanks to our experience we can also help those who want to do it online.
Our expert will guide you and give you the right tips to make the right choice.
Our ski selection is for those who are looking for a safe, precise and stable choice… But also for those who want some adrenaline.
Here are some of our brands: Atomic, Rossignol, Salomon, Blizzard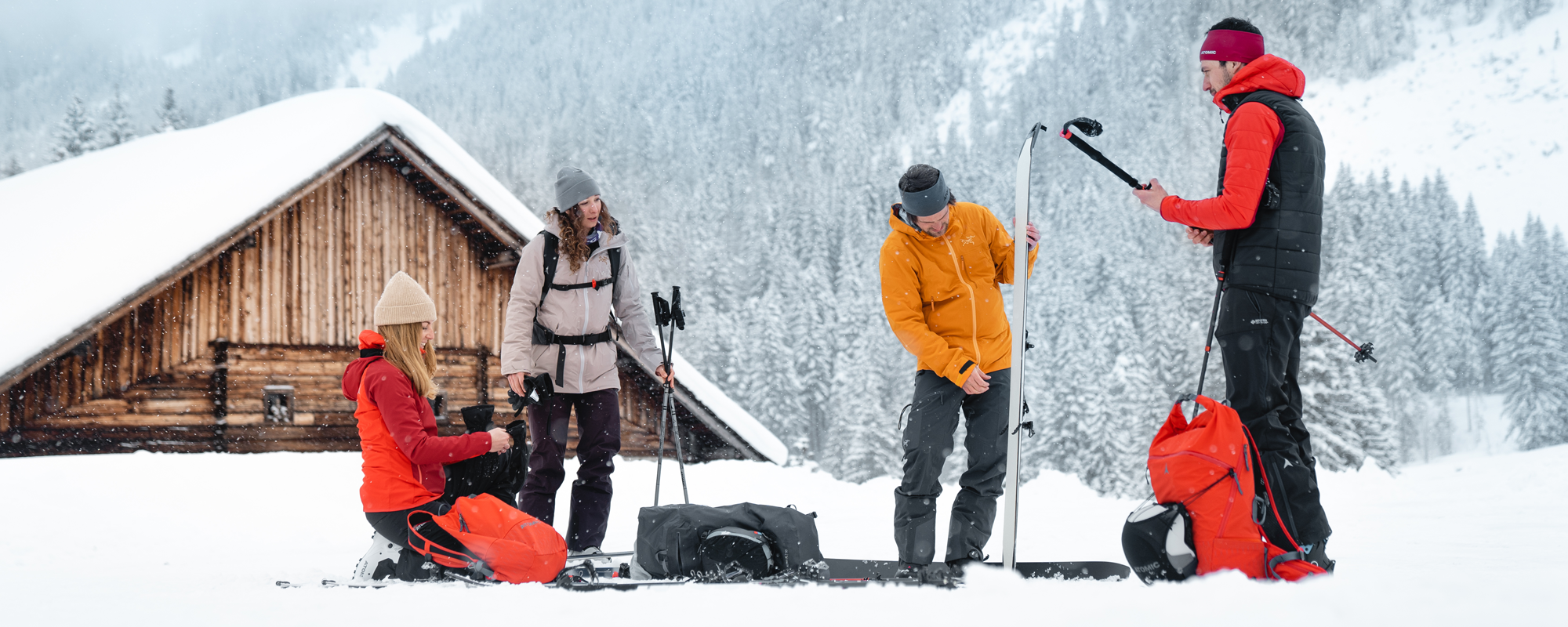 SKIALP
For those customers who enjoy exploring. Ski-Mountaineering is a rapidly-expanding sport all over the world, not only in Italy;
both the sport itself and those who practice it have changed over the years. These people are true explorers who wander outside the beaten track to live an adventure and to discover new things and new aspects of their beloved mountain. They are always focused on safety and on using the ever-developing ski mountaineering equipment, with an eye to weather conditions (as unexpected things are always ready to happen).
The past season, Ski Mountaineering has been an outlet for those who love to ski.
We care about this sport very much and it shows in our shop and in our lab, too. Our products are chosen and controlled by our expert team.
SNOW SERVICE
In our shop you can have your ski equipment prepared and set up. Thanks to our 30-years experience, we can safely check bindings, file skis and repair insoles to guarantee the best performance possible. If the skis and the equipment is prepared correctly, then the performance will improve: better curves, more stability and speed.
NOT ONLY SALE, BUR RENT, TOO!
Gialdini, besides selling skis, ski boots and a a wide variety of accessories, equipment ad so on for winter sports, from the best brands (Atomic, Salomon, Rossignol, Dynastar, Lange, Head, Blizzard, Fischer, Dynafit, Skitrab, Movement, Scarpa, Sidas) also rents equipment for adults and kids.
We offer both season and day rents for:
You can also rent snow shoes and rampons
And those who love ski mountaineering, can even choose to buy the skis they have been using the season.
Our skis are checked and prepared for our customers, ready to attack the tracks.
Ski boots are sanitized after use
ONLINE SKI SHOP
Online ski shop Our store is a must for snow and ski lovers. We are actually experienced and passionate, we are good at what we do. That's why we dedicate time and energy to our shop and customers and we prepare your skiing equipment with attention and care.
If you buy your skis online, before delivery, you'll be contacted by our SNOWLAB Gialdini, who will ask you a few question, which to us are really important
Look at the heel of your boot, on the side you'll find the measurement. You can also send ads a picture if you prefer)
Your weight and ski style/technique
These information allow us to set the DNI. A very important information ,as the bindings must stay closed till a certain point and unfasten if need be (like when you fall) to avoid damage. A very important information ,as the bindings must stay closed till a certain point and unfasten if need be (like when you fall) to avoid damage. That's why we always ask you to be precise, so that our job can be done in a precise way.
If the information are incorrect (or absent for that matter) we decline any responsibility in case of injury.